Vacuum Bell therapy: A nonsurgical option for chest wall depression (pectus excavatum)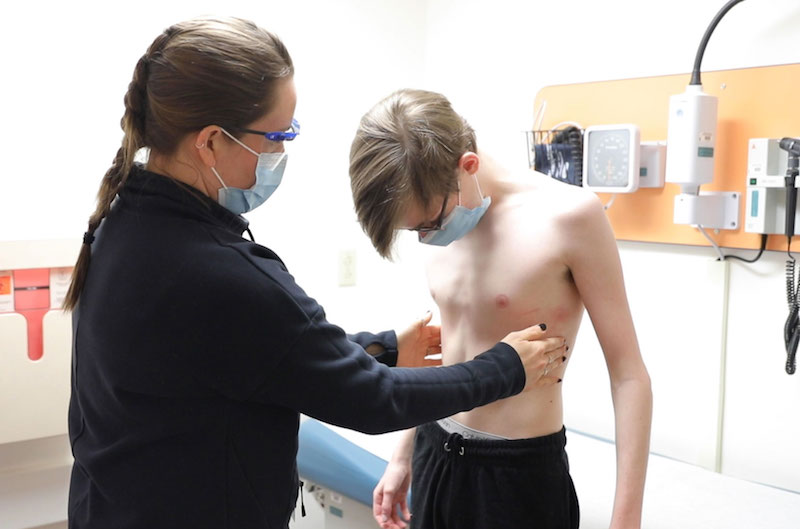 While children with severe pectus excavatum often need surgery, vacuum bell therapy may make surgery unnecessary. Boston Children's Hospital
by Joanne Barker, Clinical Care, Boston Children's Hospital June 29, 2021
Pectus excavatum is one of the most common chest wall abnormalities, affecting about 1 in 300 children.
Physicians at Boston Children's Hospital helped define early treatments for chest wall problems and continue to develop innovative approaches to pectus excavatum. These innovations include a nonsurgical procedure called vacuum bell therapy. While children with severe pectus excavatum often need surgery, vacuum bell therapy may make surgery unnecessary.
Here, Kelly Bartkus, a nurse practitioner in the Pectus and Chest Wall Treatment Program who has cared for many patients with pectus excavatum, answers questions about the vacuum bell procedure and offers advice to help kids.
Pectus excavatum is a chest wall abnormality that causes a depression in the middle of the chest. This can develop at birth or develop when your child is older. This condition is often apparent during adolescence and can become more severe during growth spurts.
Source Boston Children's Hospital
Is-vacuum-bell-therapy-effective-Patel-Hunt-2019

Is vacuum bell therapy effective in the correction of pectus excavatum? Patel AJ, Hunt I. Interact Cardiovasc Thorac Surg. 2019 Mar 28:ivz082. doi: 10.1093/icvts/ivz082. Epub ahead of print. Full text, PDF
Surgical versus Vacuum Bell Therapy for the Correction of Pectus Excavatum: A Comparison of 1-Year Treatment Outcomes, Jung Y, Yi E, Lee K, Chung JH, Cho S, Lee S. J Chest Surg. 2021 Dec 5;54(6):473-479. doi: 10.5090/jcs.21.073. Full text, PDF
Vacuum Bell: Is It a Useful Innovative Device for Pectus Excavatum Correction? Loufopoulos I, Karagiannidis IG, Lampridis S, Mitsos S, Panagiotopoulos N. Turk Thorac J. 2021 May;22(3):251-256. doi: 10.5152/TurkThoracJ.2021.20035. Full text, PDF
Localized pectus excavatum treated with brace and exercise: Long term results of a Brazilian technique, Haje DP, Haje SA, Volpon JB, Silva ACOD, Lima LFB, Huang W. Acta Ortop Bras. 2021 May-Jun;29(3):143-148. doi: 10.1590/1413-785220212903241550. Full text, PDF
A novel three-dimensional printed vacuum bell for pectus excavatum treatment: a preliminary study, Deng X, Huang P, Luo J, Wang J, Yi L, Yang G, He S, Li X, Xiang S. J Cardiothorac Surg. 2020 Sep 10;15(1):240. doi: 10.1186/s13019-020-01276-y. Full text, PDF
Vacuum bell treatment of pectus excavatum: An early North American experience, St-Louis E, Miao J, Emil S, Baird R, Bettolli M, Montpetit K, Goyette J, Laberge JM. J Pediatr Surg. 2019 Jan;54(1):194-199. doi: 10.1016/j.jpedsurg.2018.10.011. Epub 2018 Oct 5. Full text
Nonoperative management of pectus excavatum with vacuum bell therapy: A single center study, Obermeyer RJ, Cohen NS, Kelly RE Jr, Ann Kuhn M, Frantz FW, McGuire MM, Paulson JF. J Pediatr Surg. 2018 Jun;53(6):1221-1225. doi: 10.1016/j.jpedsurg.2018.02.088. Epub 2018 Mar 8.
The Vacuum Bell device as a sternal lifter: An immediate effect even with a short time use, Togoro SY, Tedde ML, Eisinger RS, Okumura EM, de Campos JRM, Pêgo-Fernandes PM. J Pediatr Surg. 2018 Mar;53(3):406-410. doi: 10.1016/j.jpedsurg.2017.04.016. Epub 2017 May 1.
Vacuum bell therapy, Haecker FM, Sesia S. Ann Cardiothorac Surg. 2016 Sep;5(5):440-449. doi: 10.21037/acs.2016.06.06. Full text, PDF
Minimally invasive repair of pectus excavatum, Hebra A, Calder BW, Lesher A. J Vis Surg. 2016 Apr 5;2:73. doi: 10.21037/jovs.2016.03.21. Full text, PDF
Non-surgical treatment of pectus excavatum, Haecker FM, Sesia S. J Vis Surg. 2016 Mar 23;2:63. doi: 10.21037/jovs.2016.03.14. Full text, PDF
The vacuum bell for conservative treatment of pectus excavatum: the Basle experience, Haecker FM. Pediatr Surg Int. 2011 Jun;27(6):623-7. doi: 10.1007/s00383-010-2843-7. PDF
Also see
Vacuum Bell Therapy Pectus Clinic – St. George's Hospital, London UK and Spire St. Anthony's Hospital locations
Vacuum Bell Treatment for Pectus Excavatum Cincinnati Children's
How to use a vacuum bell Life with Pectus